I was so thrilled to receive my first blogging award today! Thank you Short Southern Momma for thinking of me! I love you blog - it is always so fresh and you post so many cute things!

Readers, check out her blog and tell her I sent you!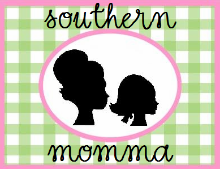 And now for the Sunshine Award:
The Sunshine Award is given to bloggers whose positivity and creativity inspire others in the blog world. I am now going to pass along the sunshine and present this award to some of my favorite bloggers who make my day "A Sunshine Day!"
The rules, once this award is received, are as follows:
1. Post the logo on blog
2. Pass the award on to 12 fellow bloggers
3. Link the nominees blogs so other can get to know them
4. Let nominees know they have won this award by commenting on their blog

5. Share the love and link to the person who received this award from.
Again, thanks Short Southern Momma for nominating me!
Here are the ladies I want to shout-out to. Some of them I have been following for a while, some I just discovered. But they all have one thing is common - they are all positive and uplifting ladies!
Congrats to all my Sunshine Award Winners! Pass it along!